10g--Other Famous Printed Books

This page is still under construction--please check back again later

Issued to commemorate the 500th
death anniversary of Skanderbeg
(George Castriota) (1405-1468), a
national hero, this eight-value set,
which was issued on 17 January
1968, includes an 80-qintar stamp
depicting the title-page of The Life
of Skanderbeg (Albania, Scott
#1116).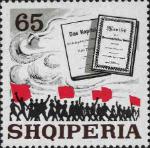 One of four stamps issued on 5 May
1968 to mark the 150th birth
anniversary of Karl Marx, the
65-qintar value depicts both Das
Kapital and Communist Manifesto.
(Albania, Scott #1146).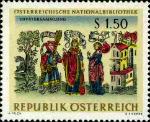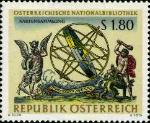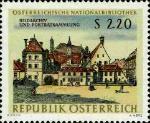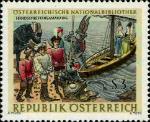 A four-value set commemorating the Austrian National Library includes examples from four different
collections: a 1.50-schilling value,
Eunuchus
by Terence from a 1496 edition from the Theater Collection
(Austria, Scott #773); and the 1.80-schilling value, the title-page of
Geographia Blavania
, depicting Cronus,
Hercules, and the celestial sphere from the Map Collection (Austria, Scott #774). Although not printed books,
the other two stamps in this set are: a 2.20-schilling value, a view of Old Vienna after a watercolor by Anton
Stutzinger from the Picture Archive and Portrait Collection (Austria, Scott #775); and a 3-schilling value, an
illustration from the
Livre du Cuer d'Amours Espris
of the Duke René d'Anjou from the Manuscript Collection
(Austria, Scott #776).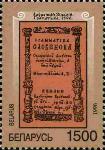 This 1500-ruble stamp, which
was issued on 19 September
1996, commemorates the
400th publication anniversary
of Lauryn Zyzani's Grammatika
Sloven'ska, the first Belarusian
grammar (Belarus, Scott #177).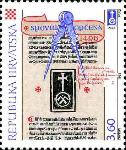 This is a set of stamps commemorating
incunabula associated with Croatia. The
1.40-kuna value depicts the
Lectionary of
Bernardin of Split
(Venice, 1495); the
3.60-kuna value shows
Spovid Opcena
, the
General Confession (Croatia, Scott
#281-282).