8e--Printing Plants & Buildings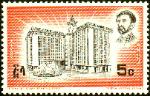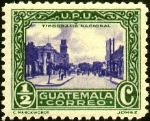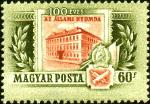 Egypt, Scott #472:
One of six
stamps in this set, the 10-
millieme issue printed in scarlet
commemorates Egypt's stamp
printing building in Heliopolis.

Guatemala, Scott #278:
The
Bureau of Printing is depicted on
this half-cent commemorative
that was issued on 24 September
1936.

Ethiopia, Scott #455:
Three
commemoratives, all with the
same design and issued on 5
April 1966, honor the opening
of the Light and Peace Printing
Press Building. Emperor Haile
Selassie's portrait also appears
on the stamps.

Hungary, Scott #1114:
The
centenary of the establishment
of the government printing
plant is commemorated by this
60-fillér stamp issued on 28
May 1955.

Italy, Scott #1349:
The 50th
anniversary of the first stamps
printed by the State Printing
Office in Italy is commemorated by
this 170-lire stamp issued on 6
January 1979. The second stamp
in the set shows a printing press
and the stamps that it prints.

Monaco, Scott #687:
In about 1464,
Conrad Sweynheym, a native of
Mainz, Germany, along with Arnold
Pannartz established the first known
printing press in Italy in the
Benedictine Monastery of Subiaco.
Sweynheym and Pannartz used the
first Greek type there in 1465. This
60-centime stamp depicts the
Monastery.

Romania, Scott #680:
The 75th
anniversary of the Stamp Division
of the Romanian State Printing
Works is commemorated on this
7.50-leu stamp depicting the
government printing plant and
press. Issued on 12 February 1948.

Uruguay, Scott #Q91:
Uruguay's National Printing
Works is shown on this 30-
centavo Parcel Post stamp
issued on 23 March 1960.

Last Updated on 2 August 2009